Osaka had a few cm of snow, yesterday. It is still very cold, but I have found a small spring in a standing bar.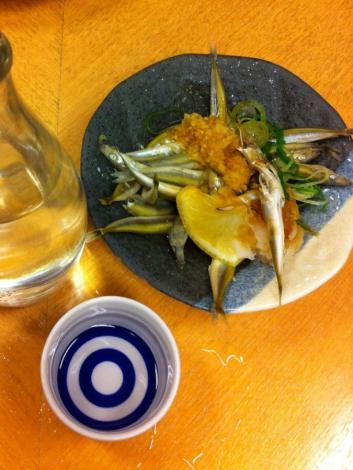 This is a small dish of Ikanago. Ikagano is a small fish catched in Osaka bay during early spring. Ikanago is often cooked as "kugini" which is simmered with soy sauce for the long preservation. But this is fresh Ikanago in vinegar sauce with ginger, radish and lemon.
Ikanago cannot be frozen, so it must be just fished and very fresh.
Ikango is also called "Kamasugo", because the shape looks like small Kamasu, barracuda. In this bar, it is called Kamasugo.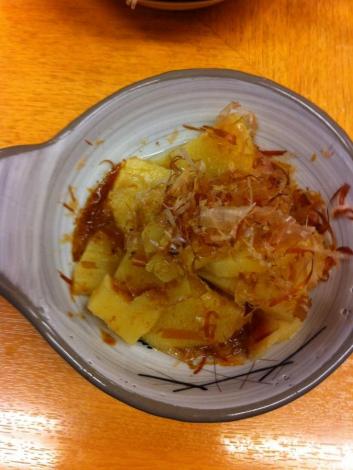 This is Takenoko Tosani. Takenoko is bamboo sprout. Tosani means boil cooking with Katsuobushi, dried bonito. Takenoko can be preserved, and may not be fresh, but it also brings a scent of spring.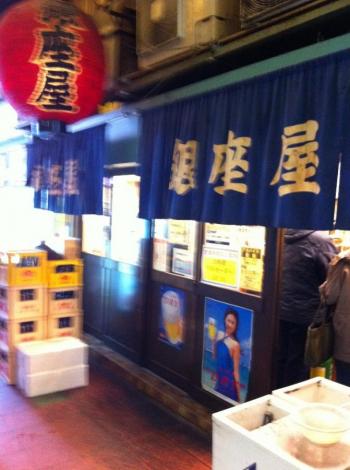 This is the standing bar, Ginzaya, which is located just in front of JR Tenma station. The Ikanago dish is Yen150 and the Takenoko dish is Yen120. Many different kinds of seasonal dishes are available from Yen120 to 250, including fresh sashimi plates.
180ml bottle of hot sake is Yen250, and large size bottle of beer is Yen330. The price of beer is the cheapest as far as I have experienced.
I enjoyed every bit of the coming of spring at less than US$10!