I will start writing blog also in English for the friends of English speaker.
It has passed one and 4 months already since I came back to Osaka from Tokyo for 30 years. I enjoy the life in Osaka, and has named this blog as "The Fool on The Web - blog of an old chap in Uemachi".
Uemachi is the eastern hill top area of downtown Osaka. I selected this place to live because I can commute to the office by bicycle. And it was very good choice. It is not only very convenient but also very good place to satisfy intellectual curiosity.
It takes only 5 minutes by bicycle to get to Namba, the second biggest city center of Osaka as well as Causeway Bay in Hong Kong, though it takes mostly 15 minutes to go back home to climb up the hill...
There are many good bars at very reasonable price close to my home, and I enjoy a glass of hot sake just at Yen200! Fresh and tasty snacks are also around Yen250 per dish!
Here are many historical places, such as Osaka Castle, many famous old temples and shrines. Osaka Musium of History is another very good place to visit to stimulate my curiosity. It shows many interesting cultural articles of 7th to 19th century, and also shows those of 20th century including those in my childhood.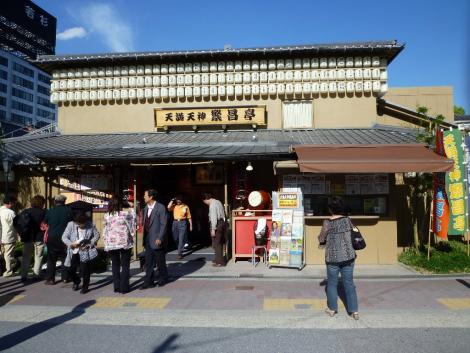 "Hanjotei Rakugo theater", the specialty theater for Rakugo, is also accessible by bicycle. After moving to Osaka, I really got into Rakugo.
Rakugo is also available in Tokyo, but I feel Rakugo in Osaka is closer to daily life. Rakugo is not performed only in the specialty theater but also in different places such as small regional halls, temples and so on.
I can go to Rakugo very often for the reasonable fee. Rakugo is not just laughter, but full of wittiness, and very cultural entertainment.
In Rakugo stories of Osaka, the old chap of Uemachi often comes out as eccentric uncle of main character. He is really just like me!
I will keep writing in this blog what I find in Osaka here from the point of view as eccentric old chap.